Vision
His Will Homes envisions a world where people come together in community both locally and globally to do God's will of serving each other and reaping the benefits of their choice. They come together in a variety of different settings to include buildings surrounded by aquaponic green spaces, farm habitats, and even entire urban communities. Synergy is developed as they collectively learn to harness the benefits of their serving while combining their unique talents. Consequently an environment evolves where all people, especially "The Least of These" (those who struggle with mental wellness) are able to embrace and appreciate everyone's true identity, self worth and dignity. This environment of neighborly love, acceptance and grace then creates a genesis where they live out their designed purpose collectively sharing in God's kingdom here now.
Mission
Our Mission is to fulfill Mathew 25:35, "serving the least of these"' to the best of our abilities using the gifts God has graciously bestowed on us. We want to build a community who come together to serve each other and through that passion significantly impact and benefit the "least of these" (people who struggle with mental wellness).

Goals
The largest barrier to helping people who struggle with mental wellness is the shortage of safe, dignified, and affordable housing.  To remove this first and biggest barrier, we as a community want to start with one building and eventually be able to acquire a farm setting, while always keeping in mind our 4 hows - Safeguarding; Dignifying; Loving; and Purposing which are our guiding principles in everything we do.  Through community we bring needed resources and unique indivudal talents together to make a significant impact on people who struggle with mental wellness as we start to remove this barrier to them receiving help. 


We focus on the following goals:
·       Implement our "four hows" to significantly reduce, if not eliminate the vicious, damaging, expensive cycling between the jails, psychiatric hospitals, streets, and group homes many residents experience.
·       Develop relationships with community care providers that will be fruitful in gaining access for our residents to the best medical treatment possible to ensure all their physical needs are met.
·       Educate communities so they will welcome His Will Homes into their neighborhood because we safely and compassionately house their hurting neighbors, saving them money and making their environment safer. 
·       Become an organization whose reputation for excellence is only exceeded by our desire to serve.
Values
Our values, the things that we believe are important in the way we live and work, are significant in life and in how they relate to our mission. At His Will Homes, we value: 
God because without Him none of what His Will Homes accomplishes would happen or really matter.

All people; all people but especially broken, hurting, marginalized people.

Family and community; both are gifts from God to help us accomplish our purpose here on earth and to give us a place where we can feel we belong.

Service because when you serve using your God-given talent, you naturally become healthy, happy, and whole. God created us to function this way!
Members
We have a servant leadership model for our organizational structure which is the opposite of most organizations. We also believe that every dollar we raise should go as much as is possible to actually fulfilling our mission.  Therefore, board members are unpaid and only those actually working in and around our projects are paid.

Our 9 Teams include:  
Intercessory Prayer
Resource / Finance
Financial Provision (fundraising)
Facilities
Medical
Community Awareness
Operations
Human Resources
Volunteer Development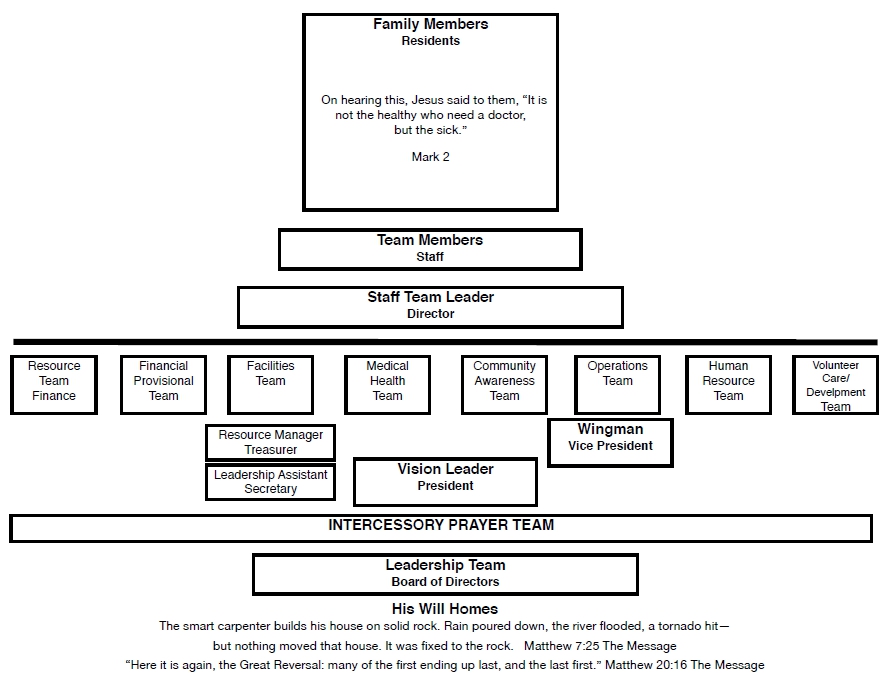 Partners
The Beracha Foundation
Christian Life Center
SouthBrook Christian Church
St. John's Catholic Church
Life Enrichment Center
The Nest
Bridges of Hope
Gospel Missions of Dayton
Time to Heal