We belive having quality care and oversight is the key to providing safe housing. At His Will homes, we foster a family atmosphere which allows our residents to rest easy and always fell safe, secure, and at HOME.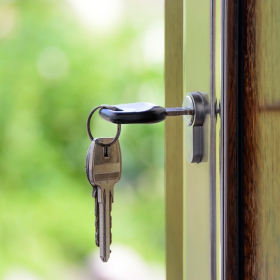 Providing security to our residents is extremely important to us.  We ensure the safety of our residents by establishing homes in neighborhoods that don't put residents at risk when they walk out of their home. Much of the affordable housing that can be rehabbed at a low cost or that already exists in neighborhoods that have high crime rates. These areas provide residents with continual access to drugs, panhandling, prostitution, and victimization.  Although the Nimby, "Not In My Backyard", is not as bad in these areas, the other negative aspects of these neighborhoods, especially security, outweigh any advantage of using them. Through entry control points which are used to monitor and screen who enters and leaves our home, we ensure everyone enters the building belongs there and they favorthe best interests of our residents.
To eliminate the issue, of theft inside our homes, we provide individual space for our residents to secure their belongings in their own rooms. This allows them to feel secure while having access to their items whenever they want.