Home
"Our Why"
We serve...
because we believe serving in the community naturally creates
a wholeness you cannot experience otherwise.
This wholeness satisfies our deep human need for belonging and
provides peace and joy that energizes us to change the world we live in.
See if "Our Why" can be "Your Why"
"Our How"
The Philosophy of How We Serve
Serving Those Struggling with Mental Wellness Using the Four "Hows" Below
Click on the pictures below for further explanation
"Our What"
Providing Safe and Dignified Housing
Using Our Four "Hows" Philosophy
Essential for Mental Wellness
We Do Homes:
We provide safe dignified housing with connections to supportive care. His Will Homes believes our homes will be a bit different then you may find elsewhere. 
There are three major areas of focus that make us different and help move each resident toward mental wellness: 
1)  We strive to ensure each resident has a private room, if desired.
2)  We encourage residents to discover and fulfill their purposein life.
3)  We provide residents with connections to individualized supportive care and in-house programs.
"Our Who"
The Least of These: We serve adults who struggle with mental wellness.
"I was hungry and you fed me, I was thirsty and you gave me a drink, I was homeless and you gave me a room, I was shivering and you gave me clothes, I was sick and you stopped to visit, I was in prison and you came to me. Then the King will say I'm telling a solemn truth. Whenever you did one of these things to someone overlooked or ignored, that was me, you did it to me!" Matthew 25:35-36,40
"Our Where"
Serving in the Community
Because Coming Together Truly Makes a Difference!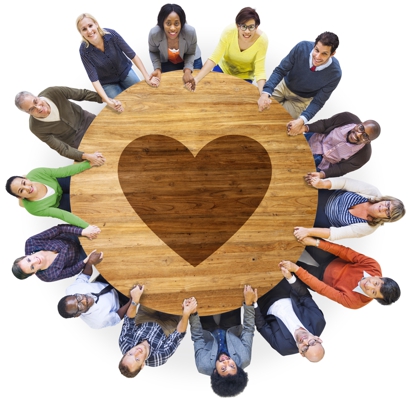 We are created for community.   We are redeemed for community.  We are transformed in community. There is a sense of belonging we all have which is fulfilled through community.  Community is God's desire for us and a sign of a mature faith because when we grow in relationship with others we are growing in relationship with Him, (Hebrews 10:24-25). When God created Adam He said "it is not good for man to be alone". So He created Eve and formed the first community. Imagine what a community of 7.4 billion people can do.
"Our When" Now!
Help Lay a Foundation Today: Join, Volunteer and/or Give